ANNOUNCEMENTS Jan. 16, 2014
Hang on for a minute...we're trying to find some more stories you might like.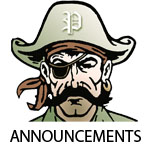 THE PTO SCHOLARSHIP WAS ESTABLISHED TO HELP PATTONVILLE SENIORS with the financial burdens associated with their post-high school education.  Get your free application & details in the PHS College Center, located in the Student Commons, or online at the PTO website.    (http://classrooms.psdr3.org/education/club/club.php?sectiondetailid=28002&)
THE INTERNATIONAL CLUB will not meet after school today, January 16.  Please check with Ms. Fields next week for the rescheduled rehearsal time.
THE COMMUNITY SERVICE CLUB WILL BE RECYCLING TODAY, January 16 after school.  STAFF: Please place your recycling containers in the hallway after school today.  
MEMBERS OF CARING FOR OTHERS that ordered shirts/pants, etc. can pick them up in Mrs. Twila Harris's room, E203, after school today, January 16.
STUDENTS WISHING TO PARTICIPATE IN THE ST. BALDRICKS FUNDRAISER should return a completed permission form to Mr. Fader in room G114.  Permission forms may be picked up outside the Activities Office or in Mr. Fader's room.  Please feel free to email Mr. Fader with any questions at[email protected].
KEY CLUB:  There will be a meeting next week on Tuesday, January 21 at 2:30 in Mrs. Gossett's room H217.  If you cannot attend, make sure to let a Key Club officer know ASAP!  Spread the word!
ARE YOU INTERESTED IN STARRING IN AN ANIMATED FILM?  Senior Joseph Warren is looking for voice talent for his short animated film "The Paladin".  Auditions will take place Wednesday, January 22 in room G104 after school.  If you are interested or have any questions, please stop by Ms. Dornfeld's room, G104, to pick up an information packet and to sign up for an audition slot.
COMMUNITY SERVICE OPPORTUNITY:  Volunteers are needed to help with childcare, for a new support group for parents with special needs children, in the Early Childhood Program.  The location is at the Learning Center once a month on Tuesday evenings from 6pm to 7:30pm.  (Dates are: January 28, February 25, March 28, April 29 and May 20.)  If interested, stop by the CSO (room E200) to sign up.
A+ INFORMATION:  Reminder: the first A+ tutoring training session for 2014 will be held on Thursday, January 23 from 1:15 to 2:15.   Sign up immediately in the A+ office (room E200).  You must attend one training session before starting to tutor students.
IF YOU'RE INTERESTED IN JOINING THE NEWSPAPER OR YEARBOOK STAFF NEXT YEAR,applications are available outside Mr. Heyman's room, B108, or online at PattonvilleTODAY.com.
THE WORD OF THE WEEK IS INFER (in·fer).  
INFER is a verb and it means to reach a conclusion based on known facts.
Here are our Opposite Day Antonyms:  announce, declare, spell out.
USE YOUR WORDS OF THE WEEK!
Remember the Pirate Code.  Be Respectful.  Be Responsible.  Be Involved.
BELL SCHEDULE THRU JANUARY 20, 2014
Thursday, January 16 – C Day; 1:14 dismissal
No school on Friday, January 17; Professional Development Day for Staff
No school on Monday, January 20; Martin Luther King, Jr. Day observed
REMINDER:  THE PRICE OF A REPLACEMENT ID AND LANYARD IS NOW $4.00.  
TODAY'S ATHLETIC EVENTS:
Freshman Boys Basketball, away, against Francis Howell at 5:00.
FRIDAY'S ATHLETIC EVENTS:
Varsity Girls Basketball, away, against Hazelwood West at 7:00pm.
JV Girls Basketball, away, against Hazelwood West at 5:30.
Freshman Girls Basketball, away, against Hazelwood West at 4:00.
Varsity Girls Swimming, home, against St. Charles West and Ft. Zumwalt North at 4:00.
Varsity Wrestling, away, in the St. Charles Tournament at 5:00pm.
SATURDAY'S ATHLETIC EVENTS:
Varsity Wrestling, away, in the St. Charles Tournament.
JV Wrestling, away, in the Warrenton Tournament.