ANNOUNCEMENTS January 30, 2014
PattonvilleTODAY staff
January 30, 2014
Hang on for a minute...we're trying to find some more stories you might like.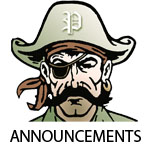 ATTENTION STUDENTS:  If you are interested in the career fields of Business Economics, Engineering and/or Science, you have an opportunity to meet with professionals from the Agricultural Business field to discuss career opportunities.  Please stop by Dr. Dobrinic's office to get more information.
ALL JUNIOR PIRATE CONNECTIONS CLASSES:  Please report to the Auditorium during Pirate Connections today, January 30.
DID YOU KNOW 39% OF THE HOMELESS POPLULATION IN THE US IS UNDER 18?  And approximately 40% of homeless youth identify as Lesbian, Gay, Bisexual, or Transgendered.  GSA is collecting donations this week to help create "Blessing Bags" which contain personal care items to help the homeless.  Please stop by the GSA table at lunch and contribute if you can.
NEED MORE FRIENDS, FOOD, AND FUN IN YOUR LIFE?  Come to the JSU meeting today, January 30 right after school at 1:15 pm in Mrs. Greenberg's Room D114.  Enjoy FREE PIZZA and AWESOME CONVERSATION with some INSPIRATIONAL PEOPLE.  See you at JSU today.
THE COMMUNITY SERVICE CLUB will be recycling after school today, January 30.  
STAFF:  Please place your recycling containers in the hallway after school today.
THE ROBOTICS CLUB will meet today, January 30 and tomorrow, January 31 at 5:30pm to get ready for the competition this Sunday at SEMO.  See Mrs. Mathis if you cannot attend the meetings or competition.
PHYSICAL EXAMS are being offered on February 13 from 4-6:30pm at Advanced Training and Rehab (12108 St. Charles Rock Road next to Deals).  Please sign up in the PHS Activities Office.  Cost is $25 cash or check payable to Advanced Training and Rehab.
THE ASVAB (MILITARY ENTRANCE TEST) will be given at PHS on Tuesday, March 11.  Sign up in Guidance or in the CSO.  See Mrs. Krohn for more info.
THE WORD OF THE WEEK IS MAGNITUDE (mag ni tood).  Synonyms for magnitude are: immensity, vastness, importance.  Antonyms for magnitude are: smallness, trivality, insignificance.
Remember the Pirate Code.  Be Respectful.  Be Responsible.  Be Involved.  
CONGRATS TO LAURA FULTON for qualifying for the State Diving Championships!
GOOD LUCK TO THE VARSITY DRILL TEAM AND COACH KATIE FUNDERBURK as they travel to the National Dance Team Championships in Orlando, Florida this weekend!  You can follow the action on Varsity.com.  We know you'll make us proud!
JUNIORS AND SENIORS:  Are you interested in studying an engineering career in college?  Boeing is offering a field trip for 8 to 10 students.  Activities include: visit the Prologue Room; a flight simulator demonstration; autonomous urban vehicle demonstration; F-15 structures test; visit a wind tunnel and a lab.  See Mrs. Mathis immediately, room B209 in the mornings or H213 in the afternoon, for paperwork.
SENIOR HOODIES IN SIZE LARGE AND EXTRA LARGE are on sale for $10 each.  To purchase, go by Mr. Fitzgerald's office in H100.
THIS YEAR'S POLAR PLUNGE IS ON SATURDAY, FEBRUARY 22!  Raise at least $75 for Special Olympics Missouri, and take a dip into the freezing Creve Coeur Lake!  You can sign up during lunch starting next week, or go to 
http://somo.kintera.org/plungemh/pattonvillehighschool
 to join the school's team.  Make a team with other participants by getting a team signup sheet in the STUCO Store.
PIRATE CODE INCENTIVES JANUARY 27-31:
Weekly Winner- $5 QT Gift Card
Attendance Games Winner- $10 STUCO Bucks
WINNERS TO BE ANNOUNCED ON FRIDAY!!!!
TODAY'S ATHLETIC EVENTS:
Varsity Girls Basketball, home, against Wentzville Holt at 6:00pm.
JV Girls Basketball, home, against Wentzville Holt at 4:30.