ANNOUNCEMENTS Feb. 28, 2014
PattonvilleTODAY staff
February 28, 2014
Hang on for a minute...we're trying to find some more stories you might like.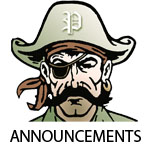 SENIORS:  A+ information night at St. Charles Community College is Monday, March 3 at 6:30pm.  Flo Valley's A+ info night is Tuesday, March 4 at 5:30pm in the Student Center.
THANK YOU TO ALL WHO CELEBRATED BLACK HISTORY MONTH WITH THE MINORITY ACHIEVEMENT CLUB.  Also, special thanks to the students who participated in the presentation.
WASHINGTON UNIVERSITY FIELD TRIP FORMS are due in Dr. Hilker's room (H110) today, February 28; if you are planning to attend, please turn them in right away.
ALL STUDENTS INTERESTED IN GOING ON THE GERMANY OR ECUADOR TRIP, please turn in your parent permission slip to Mr. Shaw or Ms. Ewig today, February 28.
TRACK STARTS ON MONDAY, MARCH 3. You need to show up Monday if you are interested in joining.  Please meet at the stadium locker rooms, dressed out and ready to run by 2:35.  Again…TRACK starts MONDAY.
GSA MEETS in room G101 Tuesday, March 4 after school.  All students are welcome!
JUNIORS & SENIORS:  The ASVAB test is Tuesday, March 11.  Sign up NOW in the CSO.
COMMUNITY SERVICE ANNOUNCEMENT:  Bridgeton Community Center's "Shop Til You Drop' event tomorrow, March 1st needs 3 volunteers.  There are two shifts available: 11:30am to 2pm or 4:30pm to 6:30pm.  Contact Vicki Meyer at 739-5599 immediately.  
SENIORS:  Community Service Honor Cord deadline is Friday, April 11.  Hours MUST be submitted by this date to qualify for the Honor Cord
ATTENTION STUDENTS:  If you are not in a winter or spring sport, participating in a supervised activity, or plan to attend tutoring you should go home immediately after school is dismissed.  Students are not allowed to roam the halls, hang out in the commons or front lobby, or use the stadium or other athletic fields without supervision.
Disciplinary consequences, including the loss of future after school privileges, will be assigned to individuals who do not comply with the rules.  
THE WORD OF THE WEEK IS PERSPECTIVE (per·spec·tive).  Perspective is a noun meaning:
The art of drawing solid objects on a two-dimensional surface so as to give the right impression of their height, width, depth, and position in relation to each other when viewed from a particular point.

The relation of two figures in the same plane, such that pairs of corresponding points lie on concurrent lines, and corresponding lines meet in collinear points.

A particular attitude toward or way of regarding something; a point of view.

PLEASE JOIN THE PIRATE CODE IN CONGRATULATING AMBER BYRD, our perfect attendance and VIP Parking winner for this week!
Remember the Pirate Code.  Be Respectful.  Be Responsible.  Be Involved.  
LOOKING TO GET INVOLVED NEXT YEAR?  Join Student Council and be a leader.  STUCO application forms can be found in the Activities office and the STUCO store.  Forms are due Monday, March 3.
SWING BY THE COVE (STUCO STORE) to check out the new apparel today
TODAY IS A "B" DAY.  (Dismissal time is 2:13 – the same as normal.)