ANNOUNCEMENTS March 18, 2014
Hang on for a minute...we're trying to find some more stories you might like.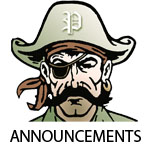 COMMUNITY SERVICE SCHOLARSHIP FORMS are due this Friday, March 21 by 3:30 in the CSO, room E200.
STUDENT COUNCIL REPRESENTATIVE VOTING IS TOMORROW, MARCH 19 AND THURSDAY, MARCH 20 ON THE MOODLE.  So, don't forget to vote for the people that make decisions for you!!!
STUCO OFFICER ELECTION RESULTS:
President: Canaan Kerr
Vice-President: Hannah Saputo
Secretary: Danielle Hayes
Historian: Nathalie Solorio
Treasurer: Maddi Gamache
ALL GIRLS SWIMMERS AND DIVERS:  Please return your warm-up uniforms to Ms. LeBlanc, ASAP.
ANIME CLUB is cancelled for this week.  We will meet again on Tuesday, April 1, when we get back from Spring Break.
STUDENTS INTERESTED IN JOINING THE NATIONAL SOCIAL STUDIES HONOR SOCIETY can now pick up an application from their Social Studies Teacher or outside of D213 or D204.
COLLEGE REP. VISITS:  
MIZZOU will be here today, March 18 at 12:30pm.

UMSL will be here tomorrow, March 19 at 8:00am.

SIU-E will be here tomorrow, March 19 at noon
To sign up and get a pass, please see Mrs. Patrick in the Guidance Office.  See the posted list in the Guidance Office for a complete listing of upcoming college rep. visits.
TICKETS GO ON SALE TODAY FOR THE TASTE OF PATTONVILLE!  Come sample food from over 25 restaurants, including: Candicci's, Chevys, Dairy Queen, Lehmann's Landing, McAlister's Deli, McArthurs Bakery, Moe's,  PHS Culinary Arts Class, Smoothie King, Starbucks, Sweet Tomatoes, Stir Crazy, TGI Fridays, Tornatores, Waffle House, and many more!  Tickets are $12 and are being sold in the Commons during all lunch sessions — get yours today!  
Taste of Pattonville…Thursday, April 3.
ART CLUB will meet after school tomorrow, March 19 in room G108.
SENIOR ARTISTS, interested in submitting your art portfolio for review to be in the running for "Outstanding Senior Artist", see any Art teacher before Spring Break for details.  Portfolio Reviews are Thursday, April 3, after Spring Break.
GIRLS SWIM AND DIVE BANQUET is tomorrow, March 19 at 6:00pm in the Pattonville Heights Middle School cafeteria. 
SAILING CLUB will meet tomorrow, March 19 immediately after school in D112 for a short meeting on the new season.
THE INTERNATIONAL CLUB will meet during Contact Time this Thursday, March 20 in B107.  This is a MANDATORY meeting to discuss the April 16th show.  If you plan on participating in this show, you MUST attend this meeting.  See Ms. Fields if you are unable to attend.
SPANISH CLUB will be in Mr. Shaw's room, H104, this Thursday, March 20 during Contact Time.  Please stop by to pick up your T-Shirt and talk about officer elections.
THE MAC TALENT SHOW has been cancelled for Thursday, March 20.
LOST AND FOUND:  If you are missing any clothing items (i.e., coats, hoodies, shoes, etc.), please check the LOST & FOUND, located in the Front Office.  Items not claimed will be donated to charity after March 31.
THE WORD OF THE WEEK IS RESPECTIVE (ree-spect-iv).  Respective comes from the Latin respectivus meaning "having regard for".
Remember the Pirate Code.  Be Respectful.  Be Responsible.  Be Involved.  
PROM TICKETS will be on sale for $55 April 7-11 and $65 April 14-17.  Tickets will be sold during lunch.  You must have your School ID and all fines paid to purchase.  You must have 90% attendance to attend.
SUMMER SCHOOL REGISTRATION:  Please make sure you turn in your SIGNED Summer School Registration form that you received from your counselor during registration.  Classes are filling up fast and you will not be enrolled without your registration form turned in!!  If you did not get a form at registration, but think you may need to attend summer school, you may make an appointment to see your counselor in the Guidance Office.
PIRATE CODE INCENTIVES MARCH 17 – 21
Pirate Code Winners: $5 7 Eleven Gift Card (2 Winners)
Attendance Games Winner: $10 STUCO Bucks
TODAY'S ATHLETIC EVENTS:
Water Polo, away, against Ft. Zumwalt West at Principia High School at 7:00pm.