ANNOUNCEMENTS April 4, 2014
Hang on for a minute...we're trying to find some more stories you might like.
HOURS TOWARD THE COMMUNITY SERVICE HONOR CORD are due Friday, April 11.   Hours will not be accepted after this date to count toward the Honor Cord.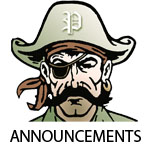 PATTONVILLE YOUTH LEADERSHIP will meet today, April 4 and Monday, April 7 immediately after school in room D205.
STUDENTS INTERESTED IN RUNNING FOR A 2014-15 CLASS OFFICER POSITION can pick up election petitions in the Activities Office April 7 – 11.  Petitions are due April 14 in the Activities Office.
GRADUATION ANNOUNCEMENTS will be delivered during lunch sessions on April 7 and 8.
ANYONE INTERESTED IN JOINING RHO KAPPA, the Social Studies Honor Society, is reminded that applications are due to Mr. Schamber in D213 by next Friday, April 11.
COMMUNITY SERVICE OPPORTUNITY:  Holman Middle School needs volunteers to help in their concession stand, Friday night, April 11 and Saturday, April 12.   Stop in the CSO to sign up.
ARE YOU ALL SET FOR PROM AND GRADUATION?  Have you checked to see if you owe fines?  Remember, fines must be paid before you are allowed to purchase Prom tickets, walk at Graduation or receive your diploma.  Please take a minute to check your fine balance in Powerschool.  The "Balance"link is located on the left-hand side of the Powerschool login screen (
this balance does not include lunch balances)
.
Please see Mrs. Mason, in the Finance Office, if you have any questions.
PROM TICKETS WILL BE ON SALE FOR $55 APRIL 7-11 and $65 April 14-17.  Tickets will be sold during lunch.  You must have your School ID and all fines paid to purchase.  You must have 90% attendance to attend.
THE MAC BASKETBALL GAME is Thursday, April 24 at 2:30pm.  Students who would like to participate should sign-up in room D205.
STUCO STORE IS HAVING 25% OFF on all apparel in the store this week.  Also, this is the last week to get the "Eliminating the R-word" t-shirts at lunch.
THE WORD OF THE WEEK IS SIMULTANEOUS (si·mul·ta·ne·ous).  Simultaneous is an adjective meaning occurring, operating, or done at the same time.
Remember the Pirate Code.  Be Respectful.  Be Responsible.  Be Involved.  
ATTENTION ATHLETES!  Cheerleading Tryouts will be held April 14-17 in the main gym from 5:30-8:30pm.  Please remember to bring your completed tryout packet and an up-to-date physical!  Good Luck!
PIRATE CODE INCENTIVES MARCH 31-APRIL 4
Pirate Code Winner: $10 QT Gift Card (Winner to be announced on Friday)
Attendance Games Winner: $10 STUCO Bucks
TODAY'S ATHLETIC EVENTS:
Freshman Girls Soccer, home, vs. Hazelwood East at 4:00.
Freshman Baseball vs. Westminister Christian Academy – 
CANCELLED
SATURDAY'S ATHLETIC EVENTS:
Varsity Boys and Girls Track in the Conference Relays at McCluer North at 10:00am.
Water Polo, home, vs. MICDS at 9:00am.
JV Girls Soccer in the Suburban North Conference Tournament vs. Hazelwood East at PHS at noon.
Varsity Girls Soccer in the College Showcase at the Lou Fusz Soccer Complex at 6:30pm.