PVS faces early season struggles
Alyssa Potter
April 16, 2014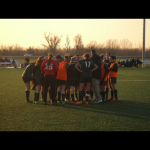 Pattonville Girls Varsity Soccer has developed a reputation over the past several years of being one of the most dominate sports in the high school. After losing key seniors in 2012 and 2013, there are just two seniors this year. The team is full of a lot of young underclassmen and unlike past years, they have not yet developed chemistry because of the lack of experience in playing all together.
In addition to the team being young, PVS lost their star forward Ashanti Carey to an ACL injury just before the start of the high school season.
"It definitely has been different because we've had to change up our strategy and starting line up a little bit. It's all about readjusting." Senior Kaely Fitterling said when asked about Carey's absence.
In preseason rankings, PVS was ranked 4th in large schools because of last year's record and key players returning. As of today, April 16 their record is 4-6-1, after starting the season off at 3-1.
The girls want nothing more than to turn this season around and get back on the right track. They believe that by following their motto: 'playing hard, playing smart, and playing together' can help them fix these problems.
"We need to put forth more effort and come together more as a team. It's just difficult because young kids have responsibility to step up and I as a leader have to prepare them for that. It's a rebuilding year, all teams have to deal with it." Fitterling said.
Being a young team with little experience in playing together definitely has an impact on PVS' record. There is a lot of pressure on the two seniors and returning juniors to be leaders to help the underclassmen step up and develop their leadership skills as well.
"I've had to step up and fill the of the role of the missing seniors when it comes to leadership. I'm glad that I have this pressure because it makes me a better player." Junior Kayla York said.
The girls have had to endure many conditioning practices and rely on each other more to better their performance. They feel as if this is a rebuilding year and their potential is limitless. They are ready to get to where they have been in the past and continue to get better. This weekend PVS will be going down to Springfield for a tournament.