Varsity baseball swings for the fences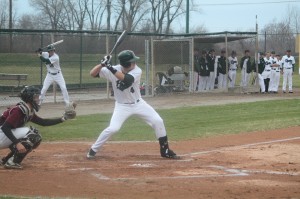 Pattonville varsity baseball cracked the local rankings last week and was listed at No. 10 in the large schools division with an undefeated record through seven games.
Now they are 10-0 after beating Hazelwood East twice and Ritenour. Almost halfway done with the season, the team is looking very strong going into the final half.
This past week, five different Pirates hit home runs: Anthony Green, Carter Hanford, Kevin Patrick, Brendan Schaefer and Mike Jacobson.
Hanford leads the Suburban North Conference in home runs and RBIs and has a slugging percentage of 1.333.
The first four batters in the Pirate lineup all have over a .400 batting average as well.
On Friday, April 25, the Pirates were trailing the Huskies of Ritenour late in the game. With the heart of the lineup up, the Pirates put up three runs in the fifth inning to go up by a run.
"If Carter gets a hit, then Anthony gets a hit, and if he gets a hit, then I get a hit," Patrick said. "We feed off each other's hits and pass it on to the next guy."
The Pirates ended up beating the Huskies 9-5.
The Pirates have two big games this week when they play Ritenour on Tuesday and Hazelwood West on Wednesday.