Class meetings to be held on Tuesday, Homeroom to meet at end of day
PattonvilleTODAY staff
August 11, 2014
Hang on for a minute...we're trying to find some more stories you might like.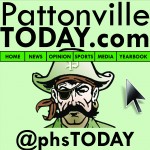 Class meetings will be held in the auditorium throughout the day on Tuesday, Aug. 12. Each grade will meet with building principal Dr. Dobrinic to discuss expectations for the year and the Pirate Code team will present information about the high school dress code.
At the end of the day, students will be dismissed to Homeroom (Pirate Connections) so that each teacher can pass out student IDs. If a student does not have an ID, they will be instructed to go to AV to get an ID before 3rd period on Wednesday, Aug. 13.
Below is the schedule for Tuesday, Aug. 12:
1st Hour: 7:23 a.m.-8:12 a.m.
9th grade class meeting 7:35 a.m.
2nd Hour: 8:18 a.m.-9:07 a.m.
10th grade class meeting 8:30 a.m.
3rd Hour: 9:13 a.m.-10:05 a.m.
11th grade class meeting 9:30 a.m.
4th Hour: 10:11 a.m.-11 a.m.
5th Hour: 11:06 a.m.-12:23 p.m.
6th Hour: 12:29 p.m.-1:18 p.m.
12th grade class meeting 12:45 p.m.
7th Hour: 1:24  p.m.-1:50 p.m.
Homeroom: 1:56 p.m.-2:13 p.m.