Tobar stars in lead role of Little Women
Hang on for a minute...we're trying to find some more stories you might like.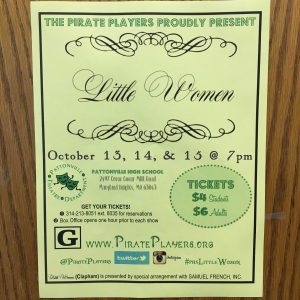 The theater department's fall play, Little Women, will run for three consecutive nights Oct. 13-15 in Pattonville High School's auditorium. Doors open at 6:30 p.m. and the play begins at 7 p.m.
Senior Emily Tobar will be playing the lead role of Jo March.
"Jo March is my dream role," Tobar said. "She is dramatic and very strong-willed. She does what she wants, when she wants, how she wants, and with who she wants. She tries to think of others before herself, but she definitely is a woman with a plan in mind."
Playing the role of Jo March is not an easy task. It takes a lot of time, dedication, and practice in order to perfect the role.
"To prepare for the play, I read the script and the book Little Women," Tobar said. "I did research on what Jo looks like, how she talks, how she acts, and how she carries herself."
She said Little Women is a timeless classic that can't be missed.
"The play is about how Jo and her three sisters, Meg, Beth, and Amy, cope with their father being away at the Civil War," Tobar explained. "It takes the audience through the many everyday struggles the sisters face."
Tickets are $4 for students are $6 for adults and are availe at the box office 1 hour proper to each show.
"It's a classic story that I think everyone should either read or watch at least once in their life," Tobar said. "It's a very heartwarming play."