Senior top 10 assembly
Hang on for a minute...we're trying to find some more stories you might like.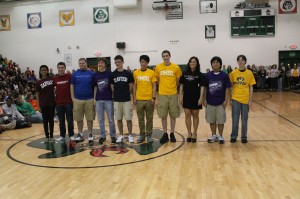 On Thursday, May 9th, the top 10 seniors of the class of 2013 were acknowledged for exemplary grades and being extremely involved at PHS. These students earned between a 4.3 and 4.8 GPA throughout their first 7 semesters of high school.
Top 10 includes:
1) Anjali Fernandes – Harvard University
2) Adam Kaminsky – Washington University in St. Louis
3) Kevin Mitchell – Saint Louis University
4) Jimmy Sorsen – Truman State University
5) Brennan Cull – Xavier University (Ohio)
6) Robert Hwang – University of Missouri St. Louis
7) Dustin Davis – University of Missouri St. Louis
8) Sierra Peerman – Missouri State Univeristy
9) Ming Chan – Truman State University
10) Roger Netherton – University of Missouri