Julie Andrews would be proud of the high school's production of The Sound of Music
Veronica Pointer
February 20, 2014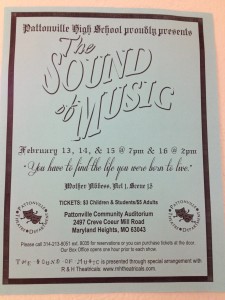 This past weekend, Pattonville presented the 1965 hit musical "The Sound of Music."
In my opinion, senior Anna Pirrie portrayed the lead character Maria as if she was the true Julie Andrews in the original movie. I loved this musical so much, it is now one of my favorites of all-time.
I had never seen "The Sound of Music" on stage and I'm so glad I got to experience this high school production that ran from Feb. 13-16.
It wasn't just Pirrie who did an amazing job, the entire cast and crew did incredible during the past 4 months putting the whole show together. I don't think people understand how hard it is to put a production let this together.
The musical is not just something students can throw together in a short time. Both the crew and cast have to decide on and create costumes, makeup, choreography, song rehearsals and so much more.
In the long run, I bet Julie Andrews would be proud of the successful outcome of Pattonville High School's production of "The Sound of Music."