VITALe Reading, The Pirate Bookworm: "Let It Snow" by John Green, Maureen Johnson and Lauren Myracle
Morgan Vitale
December 18, 2014|5 Views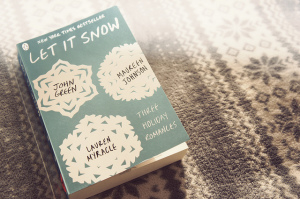 If you're looking for a holiday romance to read while you're nuzzled up by the fire this Winter Break, "Let It Snow" by John Green, Maureen Johnson and Lauren Myracle is the perfect book to pick up and bury your nose into.
"Let It Snow" is the perfect book to read during the holiday season because it involves the Christmas romance everyone wants, along with adventure, a slight tragedy, and many other exciting quirks that will leave you wanting more. This book talks a lot about romance, and come on, who doesn't love a good love story? This book is split into three stories: One about Jubilee Dougal and Stuart; another about Tobin, JP and Angie; and then the last story which is about Addie and Jeb. And don't worry, all of these stories end happily, unlike the last book I reviewed which was, well, heart-wrenching.
Everyone knows how John Green's books work, they always have sadness that ends happily, unlike "The Fault in Our Stars"; which I cried my eyes out to, but it's very rare to see John Green work with other authors which is what makes this book extraordinary. Three separate stories, which seem like they have absolutely nothing to do with each other, end up coming together in the end of a book for a very happy ending. I think that with this book, we can all connect to the characters in some sort of way. They end up having a place in our hearts, and may even remind us of ourselves or a close friend, maybe even a significant other.
When the story starts out, Jubilee is at her home when a tragedy happens with her family and she is forced to go and spend Christmas with her grandparents in Florida. The only problem with having to go to Florida, is that she had to take a train to get there. Which is where Jubilee first meets Jeb, who will be added into the story more in part three. More tragedy happens as Jubilee is on the train and they're soon stuck in a small town in what seems like the middle of nowhere, which is when she meets Stuart, who works at Target and was still head-over-heels in love with his ex, who cheated on him with their school's mascot – well…the person inside of the mascot costume. Stuart invites Jubilee to spend Christmas with his family, and Stuart's family soon falls in love with Jubilee, stating that they hadn't seen Stuart this happy in a long time, which then Jubilee noticed that Stuarts family must think they're dating, and starts to talk about her boyfriend, Noah, who hadn't contacted her all night because of a family party. Jubilee then calls Noah, slightly upset with the fact that he didn't call. Soon Jubilee becomes upset…and well, I'll stop there because I don't want to spoil the first story.
On to Part 2: Part 2 of the story features JP, Tobin, and Angie, and there wonderful adventures on a snowy Christmas night that started with Tobin's friend Keun calling them to bring over Twister and come to Waffle House right away because a train had gotten stuck in a snow mound and there were tons of hot cheerleaders inside of the restaurant that wanted to play the game. At first, Angie, who is nicknamed The Duke, didn't want to go because she knew how the boys would act due to the cheerleaders but was persuaded by Tobin because of hasbrowns, which are Angie's favorite food. On the way to the Waffle House, with Twister in the back seat, the trio's car slides and crashes into a snow mound and they're stranded in the cold, but get lucky when they see a car, but it turned out to be Timmy and Tommy Reston who absolutely hate the trio and are also trying to get to the Waffle House because Keun called them about the hot cheerleaders. From there on, this short story only gets better; high speed chases, hot cheerleaders, and Twister. Where can this story be going? Nobody really knows.
And as for the last short story, that ends up tying all of the short stories together, follows a girl named Addie, who is Jeb's girlfriend, that he is desperately trying to get a hold of. The back story of their relationship is long, but talks about how much they loved each other, but also fought over many stupid things, just like all couples do, but a fight brought a huge breakup, and Addie became depressed and dyed her hair pink. Later on that day, she had to go work at Starbucks, but during the day she promised her friend Tegan that she would go pick up a gift that was at a pet store for her while on her break at Starbucks. As the day proceeded on, Addie became distracted by an elderly woman, who said she was a "Christmas Angel", and forgets to pick up the gift, which was picked up by someone else, even though the receipt said not to give the gift to anyone but Tegan. Addie spends the rest of her break trying to find the gift for her friend, and many other exciting things happen as this last short story progresses on.
Pick up the book to figure out what happens next.
Reading this book will really make you re-evaluate your relationship and friendships with friends as it brings a lot of fun and confusing stories into play, and soon connects them all together in the very end. I can't wait to see your noses buried in this book this holiday season.
VITALe Reading Rating: 5 books out of 5! Can't wait to see the hold list for this wonderful John Green book go off the charts at our PHS or St. Louis County libraries.
Have a book you want me to read, Pirates? Be sure to leave a comment and recommend some titles for me to read. I'd love to see what books you've got in mind.