VITALe Reading: 'Eleanor & Park' by Rainbow Rowell
Morgan Vitale
January 29, 2015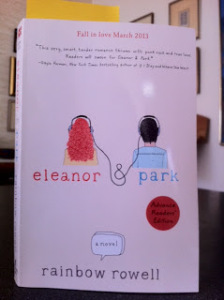 It's that time again! Time for another VITALe Reading book review. This month I had had my nose deep into the pages of 'Eleanor & Park' by Rainbow Rowell. This book was actually suggested to me over my Instagram page by a follower of mine. The description of it seemed to really hit me in the stomach. I didn't want to lose interest in it, so I checked it out as soon as possible, which actually took until school started back up for me to get it because someone had it checked out for a really long time. Gayle Forman, who wrote 'If I Stay' describes this wonderful book as a sexy, smart, tender romance that thrums with punk rock and true love. People will be swooning for Eleanor & Park.
Now don't get me wrong here, but it seems like out of the two books that I've read so far for these columns, they've all been love stories. But, I can promise you that this book is not as cliché as the others because it's based in 1986.
'Eleanor & Park', why don't we talk about them? They listen to music on classic Walkmans and listen to bands like The Dead Kennedys and The Smiths. They fell in love in the simplest way: As strangers on a bus ride to school.
Have you ever felt a sense of compassion for someone? That's what the love in this book is based on – Compassion: Love in the most innocent sense. They met on Eleanor's first day at her new school. She had no friends and no one to sit with on the bus. Park bossily tells her to sit down, and from that day everything changed. They fell in love in the weirdest of ways. Through custom playlists recorded on tapes, through gentle and innocent touches of each other's hands, and eventually through struggles in life, just like every single romance book.
I've noticed that in romance books, there always seems to be some type of either internal or external trouble with one of the main characters, and the other main character always ignores it and stays by their love's side, or tries to help and make things better. They're always there to distract the person and make them feel like they are in another world, and when they have to come back to reality, it seems like everything around them comes crashing down. They've built up this secret world and it's all destroyed by Eleanor's stepfather. There's so many plot twists that I sat here and wished I could rewrite the book myself and make everything happy.
I would definitely recommend that you guys read this book and fall in love with Park and Eleanor's story. It's unique and timeless. I loved it as much as the next person did. and be warned: The ending may make you cry.
VITALe Reading Rating: This one gets a whopping 10 books out of 5! That's five more books than the rating scale even has! I honestly cannot wait to see the hold list for this wonderful Rainbow Rowell book go off the charts at our PHS or St. Louis county libraries. Better hurry while you can, it may not be available for very long.
Do you have a book you want me to read, Pirates? Be sure to leave a comment and recommend some titles for me to read. I'd love to see what books you've got in mind.