OPINION: Should the school accept debit/credit cards as a form of payment?
Mollie Emerick
December 8, 2016|9 Views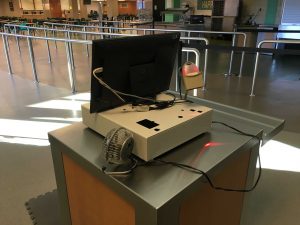 The only forms of payment that the school accepts are checks, cash, and debits through a student's ID. As students are getting jobs, making money, and obtaining debit or credit cards, this raises the question: Should Pattonville accept debit and credit cards as a form of payment in the STUCO store and during lunch sessions?
Morgan Stubblefield is one of the students that believes this would be a logical and beneficial idea for the school.
"Most of the students or at least a majority of students have a job of some sort, and with a job comes money," Stubblefield said. "Some companies do direct deposits into checking accounts or you get a check which you can put into your checking account."
Some students, such as Stubblefield, do not carry cash on them, either because they rely on their debit card or don't like the idea of losing their wallet with cash in it.
"With all of the money that I've earned or the student's have earned, it's on my debit card. I don't carry around cash because I don't like the possibility of someone taking it from me or leaving my wallet somewhere," Stubblefield said. "With that being said, why can't they take debit cards during lunch?"
Stubblefield points out that there are many pros to this concept of the school accepting a different form of payment.
"We don't have to carry around cash," she said. "This way, I can use my own direct money instead of putting it on a separate account."
The lines during the 30-minute lunch period get to be very long. Stubblefield feels that accepting a debit or credit card would help the lines progress a little quicker.
"It'll be faster than trying to rummage through their wallet in order to find their money."
Not only this, the school would have less of an issue with a student's debt.
"With a debit card, you can look up how much money you have left, and if you don't have enough money to pay for a transaction, your card will decline," Stubblefield said. "In the lunch lines, however, they allow you to go $5 into debt, which can be really frustrating because then you have to pay it back and it can prevent you from buying a ticket to events such as prom, or homecoming. It would just be easier if the card would be declined so I don't go into debt."
Stubblefield's last point is that the school would probably make more money off of students. Because some students do not carry cash or take the time to deposit money into their account, they rely on bringing food. Stubblefield brings her lunch because of both of those reasons. However, she admits that she would spend more money at lunch through the school if they would accept her debit card as a form of payment.
"Overall, they would probably make more money, especially from me."
Accepting this form of payment would benefit them greatly and eventually payoff.