Tryouts for girls' swimming starts today
Hang on for a minute...we're trying to find some more stories you might like.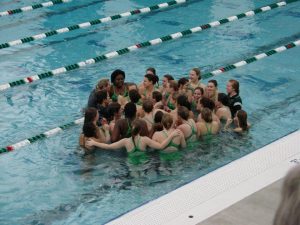 "On your mark!" WHISTLE! BEEP! POW!
As of Thursday, Nov. 7, the boys' swim team had their last meet. Now that their season has come to an end, with long after school practices every day and giving it all at their meets, it's time they hand the pool over.
It's November and that means it's time for girls' swim tryouts.
Tryouts will start on Monday, Nov. 18 and will continue throughout the week. Those who make the team will be announced at the last practice that week.
For Pattonville girls' swim team, it takes a lot of self-discipline and hard work, because these girls and their coach mean business.
"Everyone on the team was really nice and supportive, and the coaches were really nice and didn't push me past my limits and knew when I tried my hardest," Rachel Stevens said, who just had her first experience on the team last season.
"During the week of tryouts, they drop like flies," Sarah Dilallo, a junior who's been swimming for years, said. "We always start off with so many and by the end, only half of the girls are left."
The coach notices this as well.
"I'm not going to lie," said coach Anna LeBlanc. "I do like to win."
And it seems like she gets what she wants. For the past five years, LeBlanc's girls' swim team has won the conference championship. Today, the journey starts for the sixth.