SLIDESHOW Mr. Pirate TV Austin Ratanasitee wins Mr. PHS
PattonvilleTODAY staff
February 22, 2014
Hang on for a minute...we're trying to find some more stories you might like.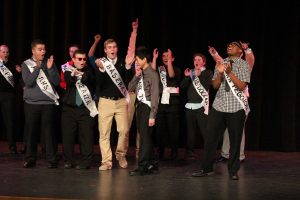 Mr. Pirate TV Austin Ratanasitee won the title of Mr. PHS on Friday, Feb. 21, beating the other 18 contestants in the annual male beauty pageant hosted by the National Honor Society.
All of the contestants participated in a group dance, fashion show, talent portion and interview. After that, the three judges – English teacher Ms. Beth Moritz, social studies teacher Ms. Jackie Gittemeier and FACS teacher Ms. Susan Saputo – narrowed the field to five finalists.
Mr. Arrpeggios Joe Johnson, Mr. Baseball Carter Hanford, Mr. NHS Canaan Kerr, Mr. Theater Jacob Painter and Ratanasitee answered one final random question before the winner was crowned.
In between rounds, the Varsity Drill Team, Pattonville cheerleaders, MCs Nathan Samples and Megan Mellring and all the Mr. PHS contestants entertained the crowd.
The contestants included:
Mr. AP Physics Jed Menard
Mr. Arrpeggios Joe Johnson
Mr. Baseball Carter Hanford
Mr. Boys Soccer Hamza Alvi
Mr. DECA Connor Klenke
Mr. French NHS Ryan Stoeckel
Mr. French Club Jesus Mejia
Mr. Girls Soccer Carter Yarnell
Mr. International Club Victorio Maganda
Mr. NHS Canaan Kerr
Mr. Pirate Press Joey Schneider
Mr. Pirate Pride Matthew Novack
Mr. Pirate TV Austin Ratanasitee
Mr. Robotics Tom Sarsfield
Mr. STUCO Hareen Patel
Mr. Swimming Kyle Masek
Mr. Theater Jacob Painter
Mr. Water Polo Evan Collins
Mr. Wrestling Kevin Patrick
Check out the slideshow from the event:
http://pattonvilletoday.smugmug.com/Mr-PHS-2014/