Showing love through Instagram
Hang on for a minute...we're trying to find some more stories you might like.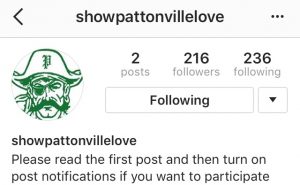 After the tragic accident with junior Cory Fisk, an anonymous Instagram account was created called showpattonvillelove. This account was created to spread love throughout Pattonville and to show how much students really do care about each other. The first post had a photo of Fisk on the football field and was captioned with the following message:
"Hello. After witnessing the outpouring of love towards Cory Fisk the past few weeks following the tragic accident, I had an idea. What if there was a way for use to show people how much they mean to us? This account is that answer. I plan to post a picture every couple days of someone. On that picture I ask that you comment and share some love. By that I mean if you have a nice compliment for them, comment it; if you have a story of something they did that you appreciate, comment it; if you want to say something but want to do so anonymously, direct message this account and I'll comment it. If you comment something rude or not encouraging, I will remove it. If you don't have something nice to say just move on. I hope to spread some love with this and brighten some days."
The account currently has received 216 followers since being created 2 days ago. The first person to receive some love from the account was senior Phillip Westmoreland. Westmoreland has received 20 comments over the past 4 hours on the Instagram post from people who really care about him.
"Well, I'll be honest, having people say good things about me made me feel extremely well," Westmoreland said. "It just gave me a great confidence boost. It feels so nice to get appreciated."
Students are responding positively to the account. Everyone who comments has something great to say and Westmoreland said he finds this as a helpful way to communicate positively with other students.
"I definitely think it will help students become closer and show their appreciation for one another more often," he said. "Today in youth and society, there is too much focus on yourself. All people care about is the number of likes and followers. We have trouble communicating with each other."
Westmoreland said saying some kind words on social media will not only help a person out, but hopefully spark a conversation in person.
"Also, it's good to have positive things on social media other than the common negativity that gets shoved in our faces just for a quick laugh. It is a great idea, nonetheless."
Junior Louis Johnson said he thinks it's a great way to spread positivity through the school.
"I feel like most people don't always get the chance to share their feelings with their friends so this is a helpful and easy way to do that," Johnson said.
The owner of the account wishes to stay anonymous for the time being. They want to focus on spreading positivity amongst the students at school and show some love.
"A long time ago, I heard about this kid who started an account sort of like this on Twitter and they would randomly compliment people at their school and I thought that that was an amazing idea," the account user said through a private message on Instagram. "Then with the tragic accident and the outpouring of love toward Cory Fisk these past few weeks, I figured why not give people a medium for complimenting each other and being nice because sometimes that can be hard to do just out of the blue."
That's also why the option to write anonymous comments is available.
"My main goal is to just give people a means to reach out and show some love to each other, but it was in the back of my mind that this could maybe help strengthen some friendships and bring people closer."