NBC's Hellblazer adaptation is titled Constantine
Kyra Vemmer
March 17, 2015|1 Views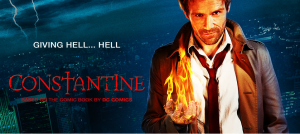 Constantine is a show that will make you look at the world a little differently.
Based on the Hellblazer comic book by DC Comics, Constantine does an excellent job of capturing the essence of the story and its characters.
It is the tale of John Constantine, a man haunted by his past mistakes who is damned to hell. His partner, Chas, is an immortal man who can come right back to life no matter how intricately he is killed.
Constantine is the story of their adventures in numerous supernatural cases stretching across the United States that threaten the balance of things and the way of life for innocent people.
Manny, Constantine's resident angel, joins them on some of these cases, helping solve the mystery or more often, adding to it.
Constantine is a show full of magic and mystery with a touch of humor and a sliver of hell, and can be seen on NBC.