Unwrapping with Spotify
You can't go anywhere or see anyone and nobody can come see you. You're bored at home sitting on your couch listening to music. Quarantine is starting to get to you so you turn to music to try and help calm you down. Enter Spotify's new feature, Spotify Wrapped.
Spotify Wrapped gives listeners stats on their top songs, artists, and genres of the past year. Being at home so much since last March meant people had a lot of chances to explore new things, find new hobbies, and work on themselves. Since it was also a very stressful time in a lot of people's lives, one way many coped was with music. The new feature helps listeners examine exactly how their music lives changed.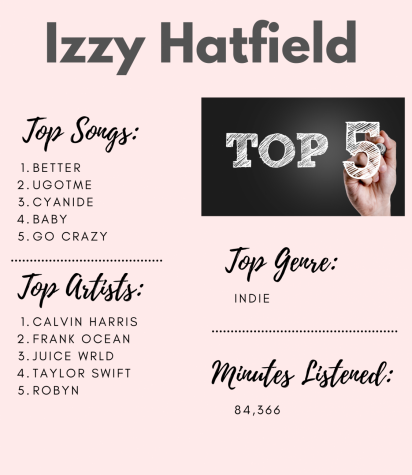 For Sophomore Izzy Hatfield she discovered four different genres last year including pop, R&B, indie, and soul.
Izzy's top songs last year included Better, Ugotme, CYANIDE, Baby, and Go Crazy. Her top artists included Calvin Harris,  Frank Ocean, Juice WRLD, Taylor Swift, and Robyn.
Her top genre was Indie, and she listened to Spotify for 84,366 minutes in 2020.
One song that really helped Izzy was "Just Us" by Khalid and SZA. The song makes her "think of a person that's really important to her in her life and it makes her grateful and happy," said Izzy.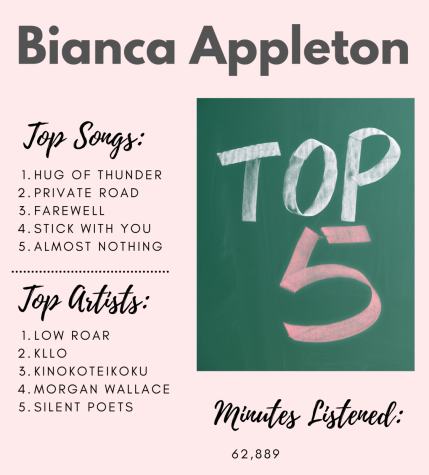 For sophomore Bianca Appleton, she discovered 4 genres last year country, soul, pop, and EDM.
Bianca's top songs last year included Hug of Thunder, Private Road, Farewell, Stick With You, Almost Nothing.
Her top artists included Low Roar, Kllo, Kinokoteikoku, Morgan Wallace, Silent Poets.
She listened to Spotify for 62,889 minutes.
Bianca explained that Morgan Wallace really "cheered her up and it made driving less anxious and scary for her when she would listen to his music in the car."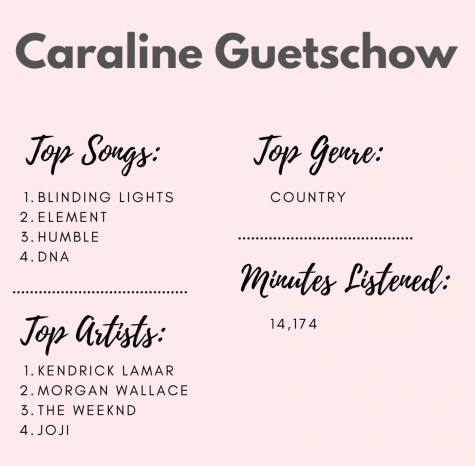 Finally, for sophomore Caraline Guetschow she ended up discovering eight topics last year including classic rock, indie, soft indie, r&b, alternative, pop, country, electric pop, and rap music.
Caraline's top songs last year included Blinding Lights, ELEMENT, HUMBLE, and DNA.
Her top artists included Kendrick Lamar, Morgan Wallace, The Weeknd, and Joji.
Caraline's top genre was Country, and she listened to Spotify for 14,174 minutes.
Caraline said that one song that really helped her was "Momma's House" by Dustin Lynch because it reminded her of her family members that she visits a lot but mostly of her grandma and she says that it simply "makes her smile."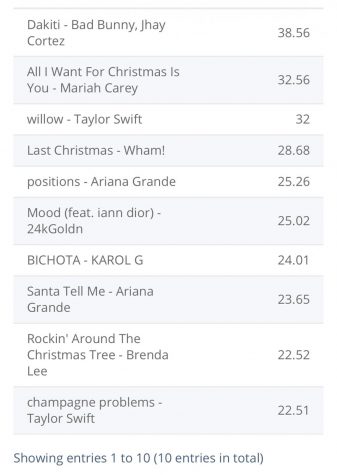 The most streamed songs of last year included "All I Want for Christmas Is You,"  "Santa Tell Me,"  "Champagne Problems," and many more.
This year was a big year for new upcoming artist and for artists that have remained in the spotlight for sometime now. Last year Spotify's top artists were Bad Bunny, Drake, J Balvin, Juice WRLD, The Weekend, BTS, Billie Eilish, Taylor Swift, Post Malone, and Travis Scott.
Overall music has helped many people during these hard times we have all faced. Listening through events that caught all our surprise and has given many artists opportunities to make amazing music and pave the way for younger upcoming artists. It even has opened up people's eyes to more genres, types of music, and artists to listen to in the future.