Spirit Week
Hang on for a minute...we're trying to find some more stories you might like.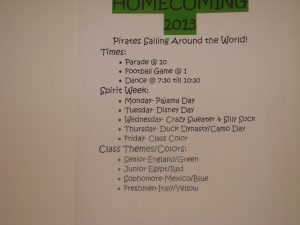 Spirit week is the one week of the school year where you get to dress up, show off, have lots of school spirit, and just have fun.
The theme days for homecoming week this year are:
Pajama Day
Disney Day
Crazy Sweater/Sock Day
Duck Dynasty Day
and Class Color Day.
Lot's of people are talking about going out and buying costumes for these days, but really you can just be creative and use what you already have at home.
On Monday, which is Pajama Day, you can wear your favorite pair of snuggly pajamas, or you can be different and rock out with the footy pajamas.
On Disney Day, you can dress up as your favorite Disney character. It's one day when you can wear a costume to school.
For Crazy Sweater and Sock Day, you can just go crazy and have fun with it. Go shopping in your grandma's closet and wear mix and match socks over your pants. You can even wear leg warmers or something. Be very creative about it.
For Duck Dynasty Day, you can wear camo, a fake beard, or even dress up like all the wives from that show.
And on Friday, which is class color day, freshmen are yellow, sophomores are blue, juniors are red, and seniors are of course green.
There are also class color shirts being sold for each grade level. You can buy them at the STUCO Store for only $10.
They will be sold during all three lunch periods