A legend has returned…and her name is Korra
Mariah Lindsey
October 3, 2013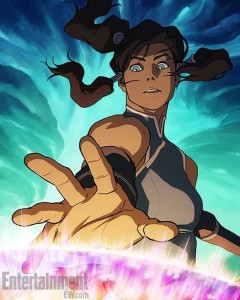 Among recurring trends that many people, especially teenagers, look forward to in fall, such as the start of school, football season, hoodies, and pumpkin-spice lattes from Starbucks, one of the main aspects of popular culture are the premieres of anticipated television shows. One of these is the Legend of Korra, the sequel to the beloved Nickelodeon show, Avatar: The Last Airbender.
A highly popular series among people of all age demographics, the Legend of Korra returned for the second half of its first season on Sep. 13. Commonly known among fans as "Book 2" and treated as the second season, the show finally returned after 15 excruciating months of absence.
Legend of Korra follows the story of Korra, a 17-year-old who is finding herself and living up to her responsibility as the Avatar, the protector and savior of the world. A rather headstrong and independent individual, Korra holds immense power and often struggles with using it to her full potential as she attempts to make her own legacy.
Although the show is a cartoon, it can produce dark themes such as murder-suicide that appeal to more than just children, as did its predecessor. It teaches life lessons in a less old-fashioned sense, and unlike most current cartoons currently airing, it displays a blend of in-depth characters, each with their own compelling stories.
The Legend of Korra is a largely realistic and fascinating show that can appeal to everyone, which is perhaps one of the reasons for its large popularity. For those interested, new episodes air weekly on Fridays at 7:30 p.m. on Nickelodeon.