REVIEW The Fault in Our Stars
Katie Scoopmire
May 4, 2014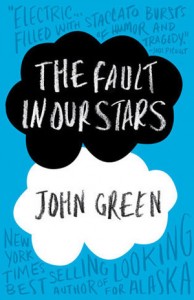 With shaved heads and the wearing of "Faith, Not Fear" orange T-shirts seen all around Pattonville, it's pretty obvious the school district has played a big part on donating to those dealing with cancer. As it is heart-warming having an impact on cancer patients, it's also worthwhile to read about what they go through.
"The Fault In Our Stars" by John Green isn't just a book about the struggles of having cancer, but a melting pot seasoned with a perfect combination of melancholy, humor and love.
In the touching novel, Hazel Grace, who has to carry around an oxygen tank because her cancer is so bad, attends a cancer support group in which she meets the mysterious Augustus Waters.
Many know the consequences of cigarettes such as lung cancer, but it can only kill you when lit. Augustus Waters, an osteosarcoma-carrier and Hazel Grace's first love, enjoys the idea of an unlit cigarette as it symbolizes the idea that he could have control of what kills his body and what doesn't.
Hazel and Augustus share a surreal experience with each other as they bond over the relatable, cancer-themed book An Imperial Affliction and use Augustus' "Make A Wish," a charitable foundation that grants cancer patients their own wish, to go meet Van Houten, the author of the book and Hazel Grace's idol.
With a 99 percent chance of tears, John Green does an amazing job at explaining the difficulties of having cancer, while persuading the suggestion of enjoying life when things may seem impenetrable.
"Sometimes, you read a book and it fills you with this weird evangelical zeal, and you become convinced that the shattered world will never be put back together unless and until all living humans read the book." – John Green, The Fault In Our Stars.