Pirates open District tournament at home against McCluer
PattonvilleTODAY staff
October 23, 2015
Pattonville opens the District tournament against McCluer on Oct. 23 at home. Kickoff is set for 7 p.m.
The Pirates (6-3) are the No. 2 seed in the Class 5 District 2 playoffs and face off against the No. 7 Comets (3-6).
Seed
Team
Record
Points
Next Opponent
Next Game Date
1
Chaminade
8-1
51.15
2
Pattonville
6-3
43.16
3
Ladue Horton Watkins
7-2
39.87
4
Hazelwood East
5-4
36.95
5
McCluer North
3-6
30.61
6
Webster Groves
3-5
26.1
Kirkwood (7-1)
11/26/2015
7
McCluer
3-6
23.06
"I just hope that we don't underestimate them and end up losing and going home," running back Chris Poindexter said. "We just have to play our game and do what we've been taught."
The Comets have been struggling this season and come into the tournament as the bottom-seeded team.
"I know that it seems like an easy win but we still have to play hard and give all of our effort," Jordan Wilkes said.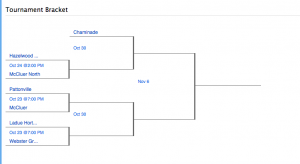 If the Pirates win, they will advance to face the winner of the Ladue vs. Webster Groves match-up.
Quarterback Kaleb Eleby is ready to start the journey to the Edward Jones Dome.
"I'm excited to see how far we will go into the playoffs," Eleby said. "Hopefully we can make it all the way to the state championship game."
Passes will not be accepted at the gate and all fans will be required to pay for admission.