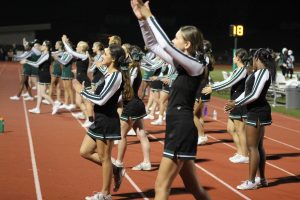 While most students were preparing themselves to come back to school, JV and Varsity cheerleaders were already winning bids to go to the Missouri Cheerleading Coaches Association (MCCA) 2016 State Competition.
The girls have been preparing themselves for state ever since winning bids at MCCA Regionals in Washington, Missouri, on July 20.
"I feel very confident because I believe in my team and I know we can win if we really put our minds to it and go out there and put on a show," JV sophomore Alexus Blount said.
The girls will compete a 1-minute long cheer performance and a 2-minute-and-30-second long routine to customized music.
"We got a new cheer and changed a little bit of our routine but I think we're all really ready and I'm confident that we'll do good," varsity freshman Kathryn Wentz said.
The cheerleaders have been practicing and adding more difficult skills to put into their routine to try and raise their difficulty score.
"We've added a few new skills into our routine to try and raise our difficulty level and start at a higher rank," JV freshman Gabrielle Shipman said. "For a little bit, we had crossover practices with varsity and they helped us a lot with getting newer skills because at first, our routines we're really basic."
The JV and varsity cheerleaders will perform during halftime at the wheelchair basketball game on Nov. 3 and will be competing at state on Nov. 5 at Mizzou in the Hearnes Center.