All you need is a little Common Courtesy
Hang on for a minute...we're trying to find some more stories you might like.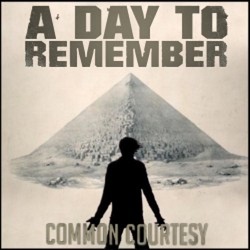 Common Courtesy is something everybody needs, and I'm not just talking about being polite.
Common Courtesy is the latest album released by the popular pop punk band A Day To Remember, and it should be common sense for ADTR fans to pick up Common Courtesy.
Common Courtesy features the classic A Day To Remember sound that fans are used to, with some songs giving off a heavier sound. Each lyric was clearly written to tell a story, which the band succeeds with doing. With the album's 13-song track listing (16 songs on the hard copy version), there is something for every A Day To Remember fan, old or new.
At the end of a few of the songs, the band left in bits of audio of them having conversations in the studio about that particular song.
At the end of one song, "I Remember," there is an extra 5 minutes after the song ends of the band reminiscing about some of their favorite memories since starting the band. They tell various stories that include playing a second show (not scheduled) in the same night at a venue next door to their original show, their bus shutting down and having to eat off the Wendy's dollar menu, their first time seeing snow, and their experience with visiting Ground Zero.
Common Courtesy offers a new sound, relatable lyrics, and a more personal vibe for their fans.
Common Courtesy can be purchased at A Day To Remember's website for $10 and will be available in stores within the coming weeks.