For Smith, 'Work hard, play hard' is his motivation
Hang on for a minute...we're trying to find some more stories you might like.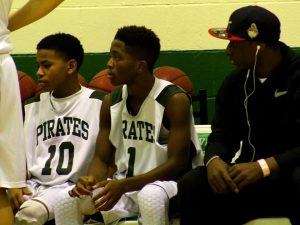 "My motivation is work hard, play hard, which means always do your best. What you plant now, you will harvest later." -Og Mandino
Calvin Smith, one of the few ninth graders that play basketball for the freshman, JV, and varsity teams, practices harder than most athletes and takes no days off.
"Basketball is my favorite sport, I've always liked it and I have been playing since fifth grade."
In fact, he can't remember a time not being around a game.
"I came out the womb with a basketball in my hand!"
"There is no such thing as a perfect basketball player, and I don't believe there is only one greatest player either."  –Michael Jordan
Liking basketball since he was a little boy, Smith sees himself in the future playing basketball in college so he practices every day from 2:13 p.m. to 4 p.m. and then goes to the Bridgeton Community Center to play basketball for a couple more hours. On the weekends, he goes and works out with his dad and little brother.
Although a freshman, he is already looking at colleges. He plans on going to Duke University, and with his athletic skill and his 3.7 grade point average, he said he is on the right track.
"I like basketball because I love competition and the adrenaline that I get when going against other competitive players."
"When I was young, I had to learn the fundamentals of basketball. You can have all the physical ability in the world, but you still have to know the fundamentals."  –Michael Jordan