Five Pattonville athletes take their game to the next level
Hang on for a minute...we're trying to find some more stories you might like.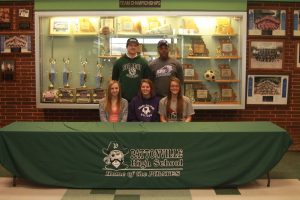 Five Pattonville athletes declared to play sports at the next level on National Signing Day.
The signees were Jake Stroker with Northwest Missouri State University for football, Jayveon Harris with Southwest Baptist University for football, Megan Anth with Grand Canyon University for soccer, Haley Womack with Central Missouri State for soccer, and Megan Peterson with Stephens College for soccer.
Signing with a college is a huge decision for a high school student to make. Many factors go into making that decision.
Jayveon Harris, Southwest Baptist University, football
"I signed with Southwest because not only do you have an up-and-coming football team, but their academics are really good," Jayveon Harris said. "I think they have a 98 percent placement rate after graduating from the college."
Harris played defensive tackle throughout his high school career, but at Southwest Baptist, he will be playing outside linebacker.
"I don't think it will be a terrible change, but I know I have to get faster because I don't think I will be able to guard the slot," he said. "They will probably redshirt me as a freshman so I can get used to the tempo of the college level."
He plans on getting a degree in Marketing and minoring in Sports Management.
Jake Stroker, Northwest Missouri State University, football
"I decided to play for Northwest because of its history and success. They won the Division II National Championship in 2013 and they are still building a great program," Stroker said. "Plus, they had the nicest facilities I have seen at a Division II-level school and most of the schools I looked at during my recruiting process. They also are a great school for education."
Stroker said he will get redshirted as a freshman.
"That way I can catch up with everybody at the collegiate level."
He plans on majoring in special education and getting a minor in coaching.
Hailey Womack, Central Missouri State, soccer
"I really like the campus and I really like their soccer team," Hailey Womack said. "I think it is a great fit for me as a school."
Megan Anth, Grand Canyon University, soccer
"I chose Grand Canyon University because they have a nursing program and that's what I want to go into," Megan Anth said. "It also has a pretty campus and I want to be a part of their soccer team."
Megan Peterson, Stephens College, soccer
"Stephens College was offering me the most for scholarships," Megan Peterson said. "Plus, they offered me the program for the degree I want to go into."
She wants to go into graphic design.
[portfolio_slideshow id=16423]