Varsity soccer comes back with a win over Lafayette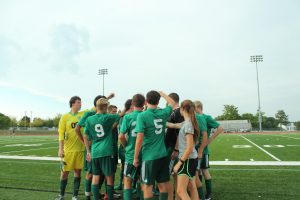 The boys' varsity soccer team opened up its 2017-2018 season with a 1-1 tie against Lafayette High School on Friday, Aug. 18.
About a month later, the varsity team beat Lafayette with a 1-0 shutout with the lone goal scored by No. 9, sophomore Nathan Mashburn.
"It felt great to score my first varsity goal," Mashburn said. "It felt even better knowing it was the game winning goal. I was glad to help my team."
The Lancers weren't able to get past the Pirates' defense on Sept. 21 to get a strong enough shot on goal to tie the game up.
Senior goalie Taylor Womack put up a good game, saving any shot that the Lancers tried to put in, along with the Pattonville defensive back line making sure Lafayette wouldn't get any chances to let the ball in the net.
"I think this recent win against Lafayette really shows our progress through the season," senior Eric Barcenas said. "We started this season with a very young, unexperienced team, consisting of many sophomores. We faced Lafayette early on and got a draw out of it. We have been getting better as a team, getting to know each other on and off the team and just feeling more comfortable on the varsity level. I think this big win against Lafayette shows how much we have improved since the beginning of the season."
The Pirates will continue their season on Monday, Sept. 25, at Parkway Central, and will play again on Wednesday, Sept. 27, when they travel to play at rival school Ritenour at the Ritenour High School Complex at 4:15 p.m.
Continue to check back for more updates on the Pirates' season.