Color Guard tryouts were held April 16-19 for the fall season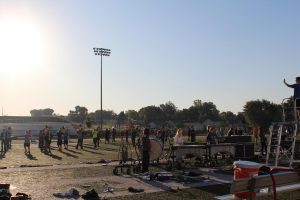 Color Guard tryouts were being held throughout the week of April 16-19 from 5 to 8 p.m. each night.
After having a season that saw the color guard double in size, 33 students were in attendance on Monday, April 16, for a night of tryouts that were held in the main gym.
Day 2 of tryouts consisted of a run-through of what was learned on the first night.
They learned the 27 points of a flag, how to jazz walk, and how to do a prayer toss. A prayer toss is when you toss the flag up into the air, making half a spin and catching it again with one hand. They also learned proper body technique. The students were taught to always practice with your head held high like you are always performing in front of an audience.
There were students who didn't believe that they could do it, but words from the new coach, Charlie Bourrage, changed that belief.
"There is not a student that I can't teach," he said which encouraged them to come back for Day 3 of tryouts.
On the last day of tryouts, the incoming senior students were asked to stay after everyone else left so that the coach can get to know them and to learn how the past seasons were taught. The seniors were asked to stay after because they are the ones who will be in charge of the equipment and to make sure everyone is there and on time.
"As a senior, I think that the responsibility that we will have for the team is good because it can help us for our life after high school," junior Allie Fairbanks said.