FULL RESULTS Half Marathon Club races downtown
Hang on for a minute...we're trying to find some more stories you might like.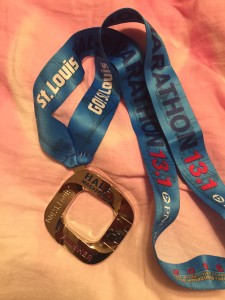 The Half Marathon Club took to the streets of downtown to run in the GO! St. Louis Half Marathon on Sunday, April 10.
For senior Maddi Gamache, this was her third and final half marathon as a member of the half marathon club at Pattonville.
"My third race definitely was a drastic change compared to my first," Gamache said. "I improved my time by 30 minutes from my first and third which is a lot of time cut off."
This year 48 students and six teachers participated in the half marathon club. They trained three times a week running on Monday and Wednesday after school and had long runs on Saturdays at Forest Park.
"I trained every day after school, and if I didn't have practice that day, I would go to the gym to better improve my strength and ability," Gamache said.
Gamache said the best thing about half marathon club is running with amazing people who motivate her to be the best she can be.
"I couldn't have done it without them cheering me on."'
RESULTS
Students:
Rathwaan Al-Gebory           2:19:38
Tyler Allen                             1:59:53
Seth Armbruster                   3:09:59
Jessie Bailey                           3:04:17
Henry Bodde                         1:56:10
Gianna Bonner                      3:28:39
Ariona Booker                        2:50:10
Jordan Colquitt                      2:42:11
Maggie Coreggia                    1:59:53
Payton Davis                          2:14:19
Nichole Dekoster                   2:40:09
Madison Duello                     2:59:16
Alex Duello                             2:06:38
Michael Fisbeck                     2:23:55
Maddi Gamache                    2:24:18
Isabelle Garcia-Blackwell    2:27:41
Morgan Garner                      2:17:01
Lucas Gibson                          1:31:02
Lydia Goetz                            2:59:16
Patrick Hachmeister             1:32:27
Julie Halveland                      2:42:11
Laura Harder                         2:05:40
Daejah Harris                        3:04:16
Taylor Hays                            2:40:01
Lauren Jones                         2:40:01
Ryan Lee                                1:53:27
Marisa Loewenstein              2:05:40
James Lyerla                          1:54:00
Aaron Mansdoerfer              1:51:04
Mallory Martin                      2:53:07
Katie McNeary                       2:28:45
Renee Patrick                        2:43:07
Michael Perrin                       2:23:55
Jashayla Pettigrew                2:41:13
Clarissa Rendon                    3:28:39
Ross Reynolds                        2:07:49
Antonio Ruggiero                  1:56:04
Itzel Sanchez                          2:50:09
Abby Stowers                        2:22:39
Mitchell Stringer                   2:04:18
Alex Urbina                            1:53:27
Mia Vance                              2:40:09
Noah Wagner                        1:58:09
Olivia Wedig                          2:07:51
Kayla White                           3:09:59
Jacob Wilfong                        1:54:00
Angelica Woody                     3:05:21
Savanna Wooten                   2:40:08
Teachers:
Shelley Christian                   1:59:56
Jackie Gittemeier                   2:42:06
Nathan Klosterman              2:06:59
Kara White                            2:41:54
Jessica Dalton                       2:28:14
Emily McDaniel                     2:24:40