Childs learns a lot in first year of coaching
Hang on for a minute...we're trying to find some more stories you might like.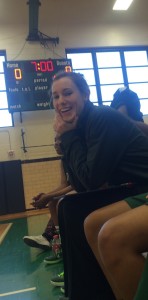 Along with the new athletic conference, Pattonville girls' basketball also got some new faces. One of those new faces was junior varsity coach Kaitlin Childs.
Childs is from Lake Oswego, Oregon, and was awarded a college scholarship to play women's basketball at Maryville University.
"I played against all different types of players and saw a wide variety of offenses and defenses," Childs said."That prepared me on the Xs and Os side of the game."
As it is for every new coach, the first year was about learning.
"The girls are quick learners, but we can't get better at everything at once. I learned that we need to break it up and work on one thing at a time."
Sophomore Erykah White thought Childs did a really good job in her first season.
"She learned with the team as the season went on," White said.
Junior Sarah Cradick said because of an injury, she had to sit on the bench but learned a lot about being a coach.
"I didn't know how hard it is to be a coach until I sat on the bench for multiple games."
Childs wasn't just a coach to her players; she was also a friend and someone the girls could count on.
"When I injured myself at an away game, she comforted me when my ankle was throbbing and I was crying," Cradick said.
Izzy Garcia said her favorite memory of Childs is when she took the team to a Maryville women's basketball game.
"We could see that being around her old teammates and friends made her happy."
Childs is also known as a mentor.
"She's really strict on ball handling and helped me get better," White said.
For Gracia, Childs has helped her slow down her game.
"She's helped me by learning to take my time and thinking over everything."
Childs said her favorite memory of the season was the last game against Wentzville Holt High School.
"We won and I feel like we played the best," Childs said. "It was great to see the girls take pride in their hard work and see the results on the court."
Childs wanted to become a basketball coach because she loves the game.
"It did not come naturally to me so I had to work hard to learn the game and develop my skills," Childs said. "Basketball can teach you so much about yourself and I want to help others who love basketball and want to learn."