Williams, Pirates seek District championship title
Hang on for a minute...we're trying to find some more stories you might like.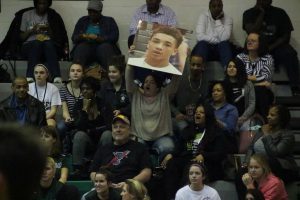 The boys' basketball team will face off against Hazelwood Central on Friday, March 3, for the Class 5 District 3 championship. One of the team leaders this season has been senior Destan Williams.
Williams, who recorded his 1,000th career point earlier this season, played in his Senior Night game with the other seniors on the team last week. This game was special to him, not only because it was the last home game of his high school career, but because his entire family came to watch.
"I feel tonight is a special night for him," said Williams's mom, Ms. Meota Anderson. "It's Senior Night. He deserves to be seen."
Anderson brought a giant sign with Williams's face on it and held it up whenever Williams scored or outplayed someone.
"He loves himself and he loves that I love him."
While she is a fan of his, Williams is a fan of hers. He said he is happy that his mother is there to support him in basketball.
"It feels good to see that my mom is always there and that's important," Williams said.
She wasn't the only one there. A large group came to support him.
"I was really happy," Williams said. "I was happy to see the support I got from my family. It's always really exciting."
He wants to pursue basketball throughout college and potentially beyond, and Anderson said he has the drive to do that.
"I think Destan has progressed really well," Anderson said. "He works very hard. He puts his all into it. He's the little guy with a big heart, and he puts his all into playing basketball.
Pattonville (18-7) will play Hazelwood Central (19-8) at 6 p.m. on March 3. The game will be at McCluer North High School.
[portfolio_slideshow id=21885]