Midseason update for boys volleyball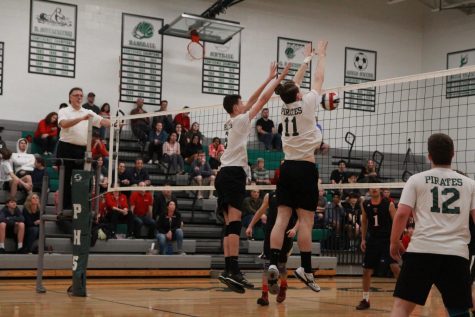 Boys volleyball has had an excellent season since starting out on a high note and going undefeated through Francis Howell Central's tournament.
They have played in three tournaments and have won two of them (Francis Howell Central and Vianney) and placed third at the Parkway Central Classic after losing in the semifinal game to SLUH.
The team has a 20-3 overall record and is ranked No. 2 in the area by the St. Louis Post-Dispatch. Only SLUH (14-0) is ranked above the Pirates.
The boys' success has been recognized state-wide, resulting in Pattonville being ranked as high as No. 1 by MaxPreps in the Missouri Class 4 bracket.
Individually, players are excelling compared to others in the St. Louis region.
Junior Rodney Wallace Jr. is 2nd for solo blocks with 18, 1st for assisted blocks (46), and 1st for total blocks (64). Sophomore Cole Schuler is ranked No. 1 for points (127) but is 4th in points average rankings. He is also 2nd for kills (an attack which results in a point) with 170 in 50 games played. Another junior, Landon Chan, leads the Pirates with 19 aces and is ranked in the Top 10 in the areas for average per game. Senior Will Polster is 3rd for serves received with 98.32 percent (179 attempts and 3 errors).
Senior Cole Cwiklowski has had an exceptional season. He leads the region in assists with 523, and averages over 10 per game. The next person on the list has just 252 assists and averages just 8.40 per game. He was named one of STL High School Sports Athletes of the Week. Here's what it had to say about him:
"A 6-foot setter, Cwiklowski helped lead the Pirates to the championship of the Vianney Tournament. In a 25-18, 25-23 win over Vianney in the championship match, he racked up 22 assists and seven digs. He had 26 assists in the quarterfinals against Westminster and finished with 25 assists and six digs in a semifinal win over Edwardsville. In six tournament matches, Cwiklowski racked up 124 assists and 24 digs. A first-team all-conference selection as a sophomore and junior, Cwiklowski leads the area in assists with an average of 10.2 per set. He has signed to play volleyball at the St. Louis College of Pharmacy."
We congratulate him as well as wish the team the best of luck with their season.