Upcoming football game could be vital for postseason placement
Hang on for a minute...we're trying to find some more stories you might like.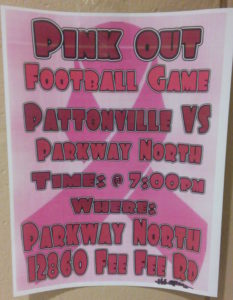 The Pattonville Pirate's football team has a current record of 3 wins and 5 losses and the postseason will soon be upon them. This week's final regular season game against Parkway North could end up being important when deciding where they will play in the postseason.
High schools are split up into classes that are based off of how many students go to the school. Pattonville is in Class 5 with other schools around Missouri. Classes are then divided into districts, a group of schools close together, that play each other in the postseason as a precursor to state competition.
Pattonville's district is made of five other schools, and to play the first round of districts at home, the school must be seeded in the top 3. Seedings are based on a team's record. Currently Pattonville is seeded No. 4 in Class 5, District 2, with the Francis Howell North Knights just ahead with a record of 4-4.
CLASS 5, DISTRICT 2 CURRENT STANDINGS
Final regular season game match-up is included in the standings
Chaminade 6-1 (48.24) vs Central (Springfield) 0-8, 10/14/2016
Hazelwood East 6-2 (41.46) vs McCluer North 1-7, 10/15/2016
Francis Howell North 4-4 (37.89) vs Washington 5-3, 10/14/2016
Pattonville 3-5 (34.92) vs Parkway North 6-2, 10/14/2016
Webster Groves 2-5 (30.09) vs Rockwood Summit 3-5, 10/14/2016
Parkway South 2-6 (28.46) vs Lafayette (Wildwood) 5-3, 10/14/2016
The top three teams in the district will play at home. If Francis Howell North loses on Friday and Pattonville wins, the two schools will be tied for the No. 3 seeding in the district. To break the tie, point differential comes into play, and Pattonville may have a chance to pull ahead. Francis Howell North averages 37.89 points a game, and Pattonville averages 34.92 points.
Sophomore and defensive end Isaiah Wilkes said the Pirate football team is excited for this opportunity, and thinks playing at home could be a real advantage.
"I feel like playing at home gives you a sense of pride in what you do," Wilkes said. "Taking all the time and work you put in throughout the week on the field and showing your teammates, coaches, friends, and family the product of that works on the same field can bring you up and humble you at the same time. I think that the familiarity of the field has a lot to do with that feeling."