Pattonville football returns to action after canceled game
Hang on for a minute...we're trying to find some more stories you might like.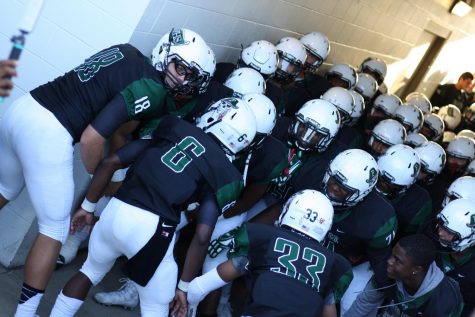 In the wake of the Officer Jason Stockley ruling, Pattonville's football game on Sept. 15 at Webster Groves was canceled. The decision to cancel the game was made by the Webster Groves School District which was the scheduled host the game.
The concern now for both football teams is how the conference and district standings will be affected from the cancellation of the game since Webster Groves is in the same conference and district as Pattonville.
Webster Groves will only have 7 regular season games because of its annual Turkey Day Game with Kirkwood, and Pattonville will only have 8 regular season games.
Head football coach Steve Smith said league organizers will be able to adjust the numbers to place teams into position seeds.
"When they do the formula at the end of the season, as far as the district standings go, there will be a multiplier of 7 for their games played," Smith said. "We will have a multiplier of 8 for our games played and the other teams will be a multiplier of 7, 8, or 9 depending on how many games they played."
The Pirates return to game action on Sept. 22 when Pattonville travels to Rockwood Summit in another conference game. Kickoff is at 7:30 p.m.
"All that matters is if we take care of our business and win out the rest of our conference games, we will win our conference," Smith said.