Varsity Drill Team heads to state competition
Hang on for a minute...we're trying to find some more stories you might like.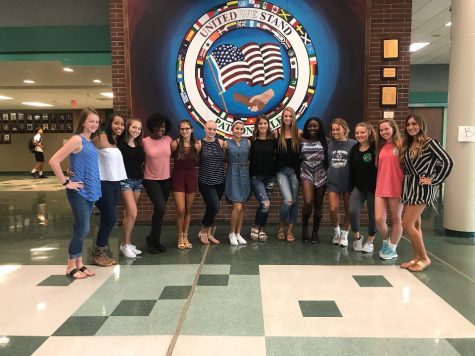 The Varsity Drill Team is preparing for the Missouri State Dance Team competition this Saturday, Feb. 24, at the St. Charles Family Arena.
The team will perform both of their routines (hip hop and pom) and the school with the highest combined score will take home the state championship title. Pattonville competes in Class 5A.
Freshman member Amaris Kirksey has had the opportunity to experience several aspects of being on the drill team. She danced in the team's first two competitions of the year at Lindbergh and St. Charles high schools, but encountered an ankle injury taking her out of the routines.
"I really miss dancing with my teammates," Kirksey said. "It's really hard to just sit and watch everyone working so hard."
She has found the hardest part to be not being able to help her teammates out.
"It's different now because before I could apply a correction, but now I only see them and can't fix it."
Kirksey said she is excited to represent her school at the state level this weekend.
Pattonville will perform at the following times:
– Hip Hop – 10:57 a.m.
– Pom – 12:36 p.m.
Admission is $12 with 5 and under free, cash only. Parking will cost $10/car.  Cash must be used.