JV boys' volleyball finishes in 2nd at Parkway North tournament
Hang on for a minute...we're trying to find some more stories you might like.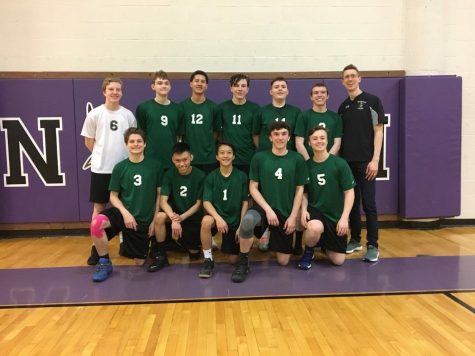 This season's schedule has been extremely hefty for the junior varsity boys' volleyball team. They competed at two tournaments within a week ending both with great results.
The boys competed in their second tournament at Parkway North High School on April 14 and finished in second place. They came into the tournament after placing in 4th at the Francis Howell Central tournament on April 7 which served as their motivation for coming back stronger.
The JV team placed themselves in the gold bracket with 2 wins in their 3 back-to-back games. After a short break, they were replenished and ready to get back to their game and advanced to the championship game where they were beyond ready to win.
The boys came in second place losing to O'Fallon in a heated 2-set match.
"I was incredibly proud of how hard the boys fought through all the play time and how they played better and better as the day progressed," JV coach Mr. Steven Shaw said. "They could've given up after losing one match early in the day and then the first set against Parkway West, but they came back and earned a spot in the championship game and played some of their best volleyball in the last set. It was so fun to watch."
The boys kept their heads held high even after that last match was over.
Shaw loves working with this team and had a few fun things to say about the team and why he loves being their coach.
"I love how well they play together and how much fun they have together off the court," Shaw said. "They may kick my butt at Mario Kart and Fortnite, but I beat them at Just Dance."
The JV team is looking pretty good right now and they all hope to make this season one of the best.
If you're looking to come watch them play, the next home game is Monday, April 16, at 4:15 p.m.