MULTIMEDIA Boys' volleyball celebrates win on Senior Night
Hang on for a minute...we're trying to find some more stories you might like.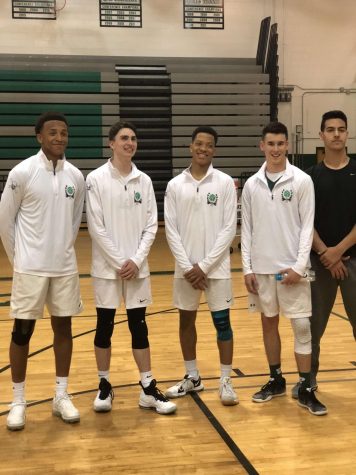 As the season is coming to an end, the varsity senior volleyball players played hard and won against Marquette in their last home game and Senior Night. The five seniors on the team (Auston Bonté, Kameron Perkins, Will Pirrie, Jake Richardson, and Thomas Senter) didn't allow Marquette to steal the spotlight from them on Monday, May 7.
Throughout the season these players have persevered through injuries, losses, and playing for the first time. The varsity team as a whole has become one large family and no matter the circumstances they have pushed through and are going to districts at Marquette, Monday, May 14.
"My favorite part of these past four years would probably be that I got the chance to play because I love the game and could just go play and enjoy it for hours," Bonté said.
He started playing his freshman year and now he is on his way to playing in college at Lewis University.
Pirrie has also been playing for four years.
"My favorite part of playing is the energy we all have on the court and the amount of hype we have when we're out there."
The season is not over just yet for the varsity boys. Come out to Marquette on Monday, May 14, to support the varsity volleyball players